At Prestige Valuations, we provide an online jewelry appraisal service for insurance purposes.
For jewelry valuation, our approach is professional, ethical, and transparent.
All of our appraisers are knowledgeable, experienced and have expertise in appraising jewelry.
We can appraise all varieties of jewellery.
We also appraise loose diamonds and gemstones, as well as gold coins and bars.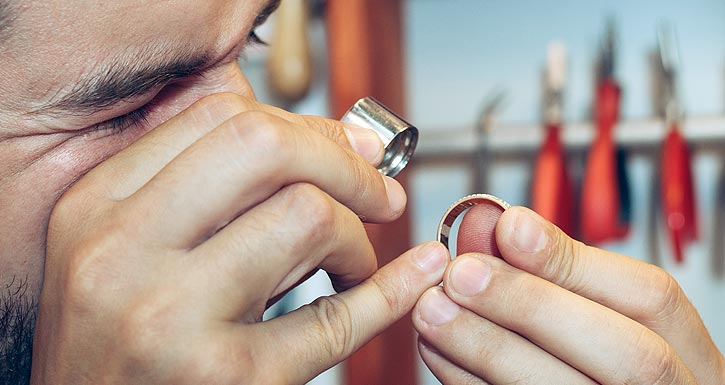 It is crucial that your precious jewelry is adequately insured against loss, burglary, or unexpected damage and this makes jewelry valuation important. A certified jewelry appraisal document will ensure that you are not underinsured, in case of any unfortunate event, when you might need to file a claim.

At Prestige Valuations, our skilled team has expertise in jewelry appraisal for insurance purposes. Our appraisers will inspect your items and give a detailed appraisal document for insurance purposes.

All the distinctive characteristics of your jewelry piece will be documented, and a comprehensive description will be mentioned for each item in the appraisal document. This will make identifying your jewellery much quicker in an unfortunate event of loss or theft.

Most jewelers take a percentage of the total valuation of your jewellery. We, on the other hand, ask for a fixed price, so you are aware of exactly how much the service will cost before you commit to it.

At Prestige Valuations, each item is appraised online for a one-time price that starts at $85 per item.

All our professional valuers have passed the Diamond Grading Course from the Gemological Institute of America (GIA), ensuring that you receive a fair and accurate appraisal from the most qualified appraisers. They devote all their time in analyzing, researching and appraising to give you an accurate, precise and unbiased appraisal.

Jewelry Valuation may be required for a variety of reasons, the most common being that your insurer demands one in order to offer adequate insurance coverage. Other possible reasons include probate, selling, or any personal reason. Insurance companies require a professional appraisal, and our appraisals are recognised by all of the leading Insurers.

REAPPRAISAL
Our first appraisal is so detailed that we can offer a reappraisal based on the details we have, thus avoiding the need to examine the piece again and incurring significant extra charges. Once an appraisal has been performed and uploaded on our secure system, we may update it biannually for a minimal cost of $50 per piece and notify your insurance company accordingly, with your consent.


To get your jewelry appraised online, please click on the Online Appraisal link. If you need any assistance, call us at
+16464178668
or email us at
info@prestigevaluations.com
.
** Loose gem stones must be physically inspected unless accompanied by a gem laboratory certicate.