Rhodium: The Intriguing Precious Metal
James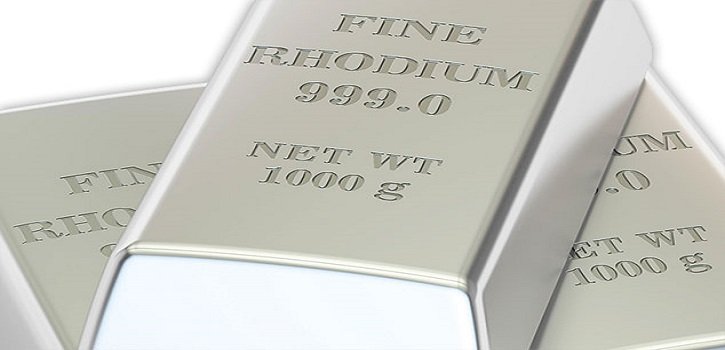 Precious metals like gold and silver have always captured the attention of jewellery lovers and designers since ages. Even from the investment point of view, these metals have sought interest. But soon precious metal platinum too started attracting attention. Platinum jewellery gained popularity. Platinum was also considered a replacement of white gold.
Other platinum group of metals too are capturing attention in the recent times. Palladium is one such metal of this group, mostly used in non-diesel catalytic converters. Another one being rhodium, the rarer member of the platinum family. Rhodium bars are available for investment purpose. And in the jewellery scene too rhodium is seen shining as rhodium plated jewellery.
Rhodium was discovered in 1803 by William Hyde Wollaston, soon after his discovery of palladium. Rhodium is rare and valuable. It has a high level of reflectance with a silvery-white appearance. This hard and durable metal is resistance to tarnishing making it the perfect metal for plating jewellery.
These qualities and properties of rhodium have led it to be used for plating on white gold to make the jewellery item look whiter, and to give it a perfect clean finish. The stains caused due to alloying are hidden with rhodium plating. Even sterling silver is coated with rhodium as this makes it more resistant to tarnishing. The jewellery designers are also experimenting with rhodium plating to give shaded effect on yellow gold jewellery. The two-tone look of silver and golden looks brilliant.
Rhodium is a hard metal and it is therefore not used in making a complete jewellery item out of it, and therefore it is only used for plating other metal jewellery. Another reason of not using rhodium in making jewellery is that although it is hard but it is brittle too, if it falls, it breaks. Even though rhodium is so hard that it cannot be hammered, Baird & Co is bringing all rhodium jewellery in the market. They use a machine that applies pressure equivalent two elephants on the rare metal.
If you are thinking of investing in precious metals, you should be aware that monetary metals are different from industrial metals. Platinum and the metals of its group are not considered monetary metals. They are not reliable investment options. Rather they are linked with industrial demand.
Rhodium, palladium and platinum are mostly used by the automobile industry. In the manufacturing of catalytic converters, rhodium is required. Even in the electronics industry rhodium is used. It is also used in the making of glass as it is resistant to heat.
The rare metal rhodium is produced (mined) in pretty little amount if you compare it with platinum. It comes mainly from South Africa followed by Russia. There was a time when rhodium prices were very high. As the sales of cars dipped in the automobile industry, the price of rhodium too slashed. And then the car sales again picked up, so the price of this rare metal increased yet again. Time will only tell what status rhodium jewellery will take in the jewellery industry until then who is stopping you from wearing rhodium plated jewellery!