Take Advantage of Bespoke Jewellery - Read These 7 Tips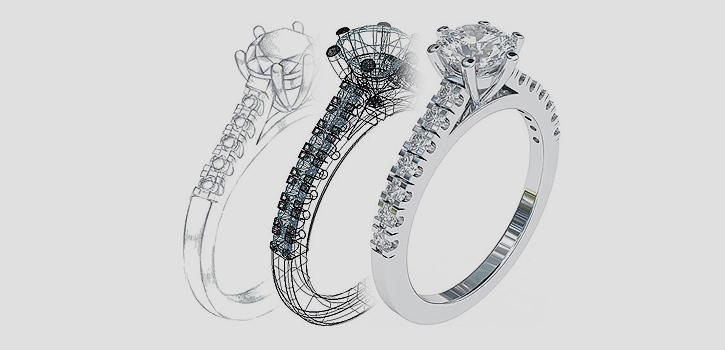 Jewellery shopping is exciting and with so many various jewellery options, it is easy to get confused sometimes and many a times, you are looking for that perfect piece/ design/style but are somehow not able to find one. That is the time you want something custom made, this could be for a special occasion or for someone special. Bespoke Jewellery can be made as per your preferred design , weight, shape, stones to be used etc which will fit your taste and style perfectly.
Reasons why bespoke jewelleries are gaining popularity and their advantages
It helps in giving you a unique piece of jewellery. Usually single pieces of such jewelleries are created for customers and this design cannot be exactly replicated. This is what makes it exclusive and different from the rest. The person who received such a piece of jewellery will surely cherish and treasure the same for lifetime.
Stores which create bespoke jewellery items are highly knowledgeable about the products that they create and design. Usually general jewellery makers do not have much knowledge on various kinds of products. But jewellery manufacturers dealing with bespoke items will know the item inside out. Infact professionals at such stores can guide customers in best manner as what kind of metal should be chosen, which kinds of stones will provide best value and so on.
With custom made jewellery, you can create a design perfectly matching with your desires and requirements. You can make decisions on various aspects like the metal you want to use, its thickness and heaviness, the design of the stone or diamond, the cut of the precious stones, the setting style of the stone in the jewel and so on.
High quality materials are used in custom made jewellery. Since these are custom made pieces, they are different from the rest. Whether it is the base metal, diamonds or other kinds of precious stones used in the jewellery item, their quality is top notch. International standards are maintained in the quality of the items.
Designs for bespoke fine jewellery London are created on computers. 3D designs are created so that the customer has the real feeling of the piece of jewellery. The design is sent to the customer for approval and only after that the real manufacturing process begins. In case the customer wants a change he can make the same, but once manufacturing begins, making amendments is difficult.
Master craftsmen are involved in the making of bespoke jewellery. It is because these pieces of jewelleries need to have intricate detailing as per the request of the customer. Since these jewelleries are meant for special events and occasions, it is important that they are done in the best manner by the best professionals.
Many people think that buying custom jewelleries is an expensive affair. But practically it might not be so. You get the jewellery designed as per your individual choice and preference. Moreover, the best craftsmen are involved in creating the trinkets for you with the highest quality materials.
Look for the store that creates custom jewellery and place your order today.